Seaweed, Urchin Promise New Aquaculture Opportunities
by Laurie Schreiber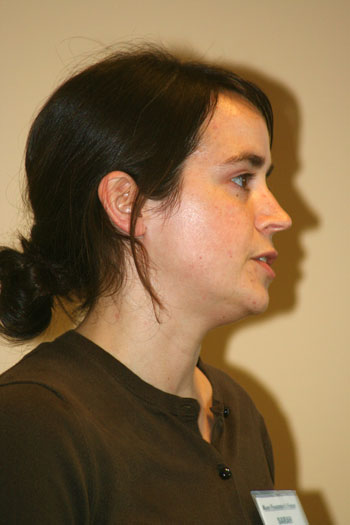 ROCKPORT—Aquaculture specialists are developing seaweed and urchin culture techniques to expand farm-raised seafood opportunities for the state.
The Maine Aquaculture Association (MAA) hosted a seminar on the topic at the Maine Fishermen's Forum last month. The MAA, in cooperation with the University of Maine, Maine Sea Grant, the Island Institute and Coastal Enterprises will offer training programs in seaweed and mussel aquaculture this year.
Maine is one of the leading producers of cultured seafood in the country, and the MAA is the oldest state aquaculture trade associations in the country.
Sarah Redmond, a Maine Sea Grant extension associate working at the Franklin-based Center for Cooperative Aquaculture (CCAR), said there are signs of a shift in popular perception about seaweed, which is increasingly viewed as a new vegetable.
Sea vegetable species that can grow in Maine include laver, nori, dulse, Irish moss, gracilaria, sugar kelp, horsetail kelp, winged kelp and sea lettuce. Sea vegetables are high in nutrients and protein, she said. One Maine company is offering cut, blanched, and frozen sea vegetables that are ready to take out of the bag and throw into a recipe.
A type of kelp farm that has been tested consists of long lines submerged seven feet down. Seed is planted along the lines in the fall. The kelp grows rapidly and is ready to harvest in the spring. It's an ideal off-season crop, Redmond said.
"It's the only vegetable in Maine that grows in the winter," she said.
Experiments are ongoing to integrate kelp culture at a mussel farm, she said.
Nori is a huge worldwide industry, she said. Dulse is also a valuable species.
Seaweed can also be used for "ecosystem services," she said.
"You can grow seaweed in areas where you have nutrient excess to capture nutrients and clean up the water," she said, citing as an example wastewater treatment outflow areas.
Seaweed culture is expected to open economic opportunities for the state of Maine, she said.
Redmond said she will be heading this year to Korea to learn how they culture seaweed and sea cucumber. The latter could be another opportunity for Maine, she said.
According to CCAR, sea vegetable aquaculture is a relatively new industry in the United States, and Maine is at the forefront of developments.
"Sea vegetables are a $6 billion market worldwide and Maine's cold, clean ocean waters produce a high quality wild harvest that is highly sought after," CCAR says on its website.
The CCAR sea vegetable research program is focused on building infrastructure in Maine to encourage use of sea vegetables in integrated polytrophic aquaculture, with field trials of sugar kelp on shellfish lease sites. CCAR is also establishing a spore seed-stock nursery for multiple species, such as laver, dulse and kelps.
CCAR is also looking into the use of cultured seaweeds as a feed source for other crops, such as the green sea urchin.
One man pointed out that processing, marketing and monetizing the products will be issues.
"There's no question that we have a ways to go," said MAA executive director Sebastian Belle. "We have at least two, maybe three companies in Maine that have developed significant markets. On the new species that are coming on, there's a period where you get the growing piece of it together and then you have to figure out the marketing piece….We do probably need more effort put in to marketing studies in the U.S."
Stephen Eddy, a CCAR biologist reported on progress on urchin culture at the center. Urchins are valued, particulary in Japan, their tasty roe, called uni.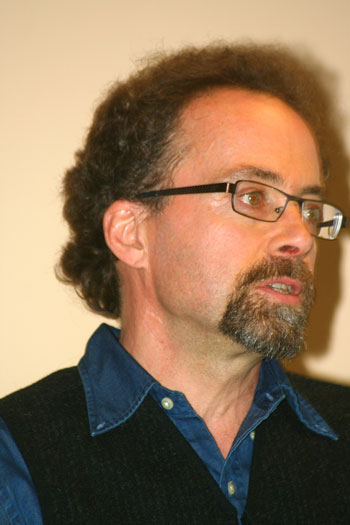 "It's a valuable product," said Eddy. "At auction, it goes from $80 to $300 per kilogram. Japan is a good market. Maine played a significant role in that market in the 1990s. There was a fishing boom."
Maine's catch peaked at 39 million pounds in 1993, worth around $40 million, second only to lobster. The fishery then crashed, and settled in at 2 million pounds per year, worth about $5 million per year.
Japan in previous times had also crashed its urchin fishery, and then developed hatcheries.
That country now cultures about five species. The methods they developed have been adopted for at least 16 species in more than a dozen countries, said Eddy.
Two urchin hatcheries currently function in the Gulf of Maine, one in New Hampshire and and the one at CCAR, in Franklin, which was established 2007. CCAR's output now is about 2 million seeds per year, a figure that could be scaled up, said Eddy.
By contrast, Japan has 42 hatcheries that produce 82 million seeds, which are planted at more than 700 sites.
"Many academic and industry experts believe that aquaculture may play a valuable role in revitalizing this fishery," CCAR says. Developed with partners in New Hampshire and Maine, CCAR has year-round spawning ability and the capacity for large-scale juvenile production, and has demonstrated cage-based nursery growout, tested various planting-out strategies, carried out feed trials, and tested different methods for growout.