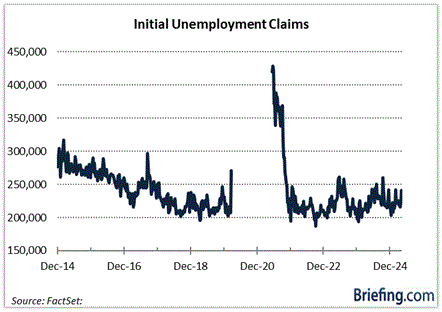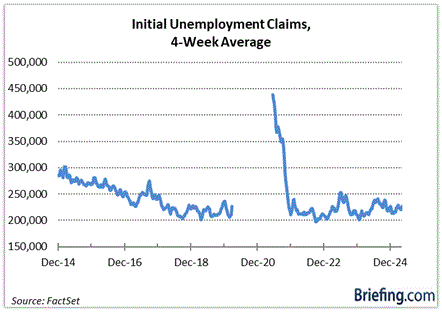 Highlights
The initial claims level beat expectations and fell from 478,000 for the week ending Aug. 28 to 451,000 for the week ending Sep. 4. The Briefing.com consensus called for claims to fall to only 470,000.
Continuing claims were essentially flat as claims fell from 4.480 mln for the week ending Aug. 21 to 4.478 mln for the week ending Aug. 28. The consensus expected claims to fall to 4.445 mln.
Key Factors
Temporary census worker payrolls have stabilized over the past few weeks, which should eliminate any bias that the census workers played on the initial claims level. Therefore, the slide in the claims number may be a telling sign that private firings have weakened over the past few weeks.
While initial claims remain bounded between 450,000 and 500,000, which has been the case since the middle of November 2009, a move below that bound in the next week or two would add to the evidence that the strengthening in the private sector labor market was masked by layoffs in the government sector.
Emergency unemployment benefits were also steady as the level fell from 4.546 mln for the week ending Aug. 14 to 4.510 mln for the week ending Aug. 21. Combined, the level of continuing and emergency claims suggests that new hiring demand remains weak.
Big Picture
New claims have dropped below 500,000, but they are still well above the typical levels found during the last recession. As major companies finish their labor restructuring, many of the newly unemployed are coming from smaller businesses. This tends to cause more hardship on Main Street as many of these workers are unprepared for their job loss.
| Category | Sep 4 | Aug 28 | Aug 21 | Aug 14 | Aug 7 |
| --- | --- | --- | --- | --- | --- |
| Initial Claims | 451K | 478K | 478K | 504K | 488K |
| 4-Wk Moving Avg | 478K | 487K | 488K | 484K | 475K |
| Continued Benefits | | 4478K | 4480K | 4479K | 4515K |
| 4-Wk Moving Avg | | 4488K | 4491K | 4514K | 4536K |