NYMEX crude oil eases in Asia as Iraq concerns wane for now
Investing.com - Crude oil prices eased in Asia on Monday as investors see signs that Iraq's sectarian strife has eased as the government moves to shore up diplomatic support.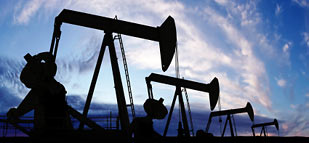 Last week, crude oil futures ended lower, as investors continued to unwind positions that had priced in the possibility of major supply disruptions stemming from the bloody Iraqi insurgency.
On the New York Mercantile Exchange,
crude oil
for delivery in August traded at $105.48 a barrel, down 0.25%, after ending at $105.74 a barrel on Friday.
On the ICE Futures Exchange in London last week,
Brent oil
for August delivery fell to a session low of $112.90 a barrel on Friday, the weakest level since June 17, before settling at $113.30, up 0.08%, or 9 cents.
Despite Friday's modest gain, the August Brent contract lost 1.31%, or $1.51 a barrel, on the week.
Meanwhile the spread between the Brent and the WTI crude contracts stood at $7.56 a barrel by close of trade on Friday, compared to $7.98 in the preceding week.
Oil prices moved lower amid indications Iraqi oil exports in the south remained insulated from the sectarian violence that has swept the northern part of the country in recent weeks.
Futures rallied to nine-month highs earlier in the month amid fears that an insurgency in northern Iraq would spread to the oil-rich south and disrupt the nation's oil production.
Iraq produced approximately 3 million barrels a day of oil last month, making it OPEC's second-biggest oil producer behind Saudi Arabia.
Meanwhile, in the U.S., upbeat consumer sentiment data released Friday failed to dispel concerns over the outlook for the wider economic recovery.
The final reading of the University of Michigan's consumer sentiment index rose to 82.5 this month from 81.9 in May, compared to expectations of 82.2.
In the week ahead, investors will be looking to the U.S. nonfarm payrolls report on Thursday for further indications on the strength of the labor market, while key manufacturing data out of Europe and China will also be in focus.